On November 21 2019, Digital Synergies officially launched their new website as well as various Digital Synergy researcher projects in the Digital Scholarship Center at the University of Alberta. Dr. Astrid Ensslin opened the event, with Morgan Cselinacz explaining the new website and all of its features including: submitting news, viewing and adding Digital Synergies events, becoming a Digital Synergies collaborator, and signing up to the listserv to name a few.
Dr. Geoffrey Rockwell then presented lexigraphi.ca, "A Dictionary of Words in the Wild" which captures a variety of words and phrases with distinct meaning when captured in photo form. From their website, "The Dictionary of Words in the Wild is a community collection of images of public textuality, specifically words outside of the usual print contexts. We are interested in words that are: in the public view, in an interesting context where the location adds texture, visually provocative in some way, and part of phrases that add another intersection of meaning. The idea for the Dictionary came from discussions at the Institute for Advanced Technology in the Humanities when Geoffrey Rockwell was there in 2001-2, especially discussions around the deformance of textuality and transcoding."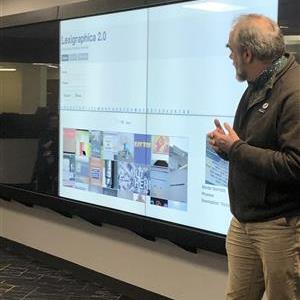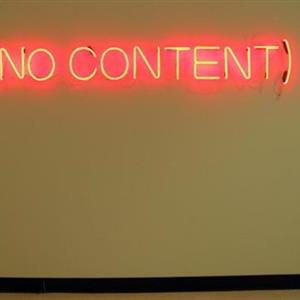 Dr. Astrid Ensslin followed up with the release of her book Approaches to Videogame Discourse, discussing the various ways in which videogames create meaning and can be discussed. "The first significant collection of research in videogame linguistics, Approaches to Videogame Discourse features an international array of scholars in linguistics and communication studies exploring lexis, interaction and textuality in digital games."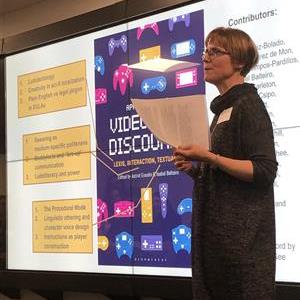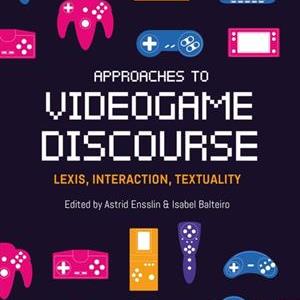 Next, Dr. Scott Smallwood and Nicolás Arnaez presented Lost Garden, a game that tells a story through sound. Players are able to solve puzzles by listening to the sounds and music surrounding them. As described on the website, "The Lost Garden is a first-person audio puzzle game that features sonic exploration in an abandoned underground urban environment. As a stranger here, the player explores the soundscape of a world cut off from nature, perhaps a future us, by interacting with sonic puzzles that open doors to new areas, and, ultimately, the lost garden. Through listening and interacting with sounds, players are encouraged to consider the fragile nature of our natural soundscapes, and to speculate on what the story might be for the abandoned game world. As puzzles are solved, clues are revealed, and doors to new areas are opened, ultimately leading the perceptive player outdoors, to the lost (last?) garden."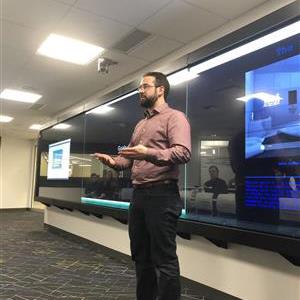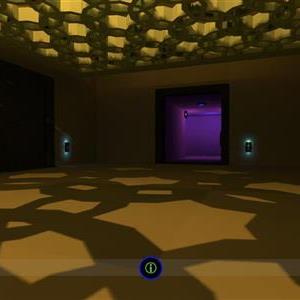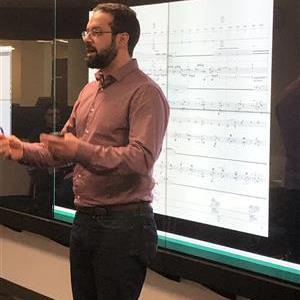 Dr. Michael Frishkopf and Yourui Guo presented the "Sounding the Garden" app for the multisensory Aga Khan Garden. From the website, "Sounding the Garden provides an additional aural dimension. Through your mobile computing device (phone or tablet) you can hear an augmented reality - a new soundscape, comprised of music, speech, and birdsong -- superimposed on the garden, through the frame of a famous mystical poem, Farid al-Din Attar's "Language of the Birds" (Mantiq al-Tayr). As you stroll through the garden you will hear different sounds through your phone or tablet, varying with your current position, time of day, day of the week, and month of the year, whose sources are virtual. Such sound is known as "acousmatic" - it is not directly coupled with your physical environment, and its "sources" are hidden from view."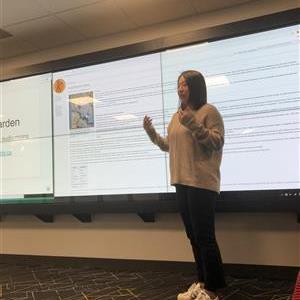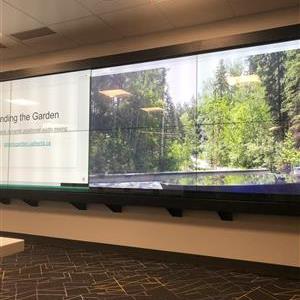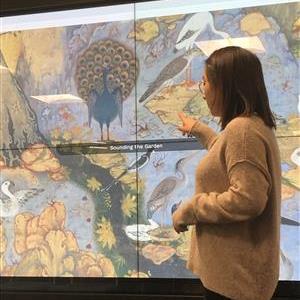 Dr. Rob McMahon and Amanda Almond also presented "We Are All Related AR" - "The We are All Related Augmented Reality (AR) project seeks to integrate Indigenous knowledge and teaching methods in post-secondary education, encouraging processes of critical, reflective, and reciprocal relationship-building though the co-creation of AR content. Augmented reality layers digital information over a view of the "real-world" on a mobile device, offering an innovative approach to engage faculty, students and Indigenous peoples to share insights and knowledge beyond what is first observed. Cree teachings in digital narrative form, created and presented in AR platforms, can share location-based knowledge, history, and language in engaging ways that reveal settler and Indigenous histories, present activities, and potential futures co-present in shared spaces."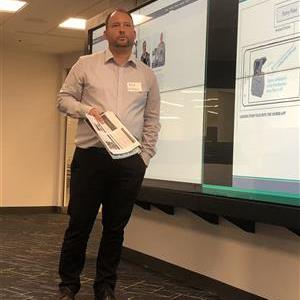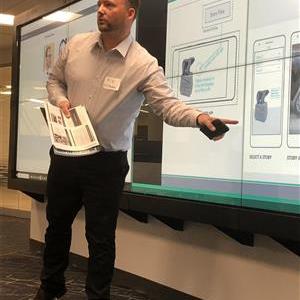 Dr. Marilene Oliver finished off the Mega-Launch with her "Digital Corporealities" VR artworks. From her website, "Since September 2018, Marilène Oliver has been working with radiology and computer science researchers at the University of Alberta to create a series of high-resolution full body magnetic resonance (MR) scan datasets in order to create a series of sculptural installations that have virtual reality elements. Based on the premise that the way we see ourselves informs how we understand ourselves, creating material and immaterial visions of the body based on data captured by a digitally mechanised machine offers an opportunity to compare and contrast the affectiveness of virtual and real media. Each work has an especially created audio created by Gary James Joynes using recordings from the original MR scan." Participants were able to interact with the sculpture with a pair of VR goggles and handset.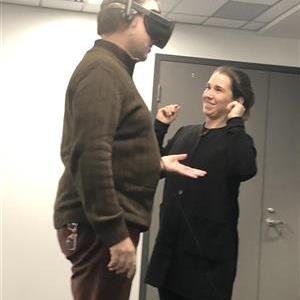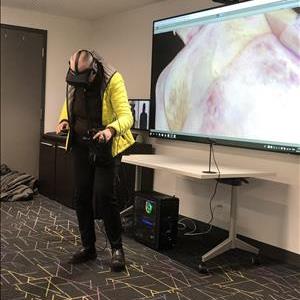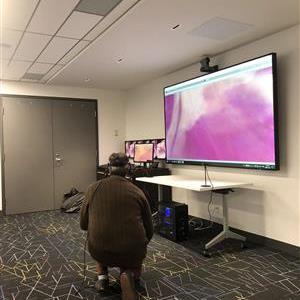 Additionally, Dr. Sourayan Mookerjea and Javier Fuentes showcased various Intermedia Research Studio projects, including "PerfectStorm!: a feminist renewable energy role playing game" and "Toxic Media Ecologies: Critical Responses to the Cultural Politics of Planetary Crises".
The event had a wonderful turnout and is the first of many Digital Synergies researcher forwarded events.